I have no good excuse, I just haven't felt like it! Nothing new or exciting has happened, so there isn't really anything interesting to write about. Adam has been doing really well at the plate..most games he has been going 2 for 2, a few doubles, some singles, and maybe a walk or two. Last night was the first time in a while that he didn't play. It was
Breast Cancer Awareness
night so the guys wore bright pink jerseys. During the game there was a table where all of the jerseys were being auctioned off, and whoever won got to come down on the field after the game and meet the players, and get autographs. Adam's
beautimous
little
humongous jersey sold for $200. Not too bad!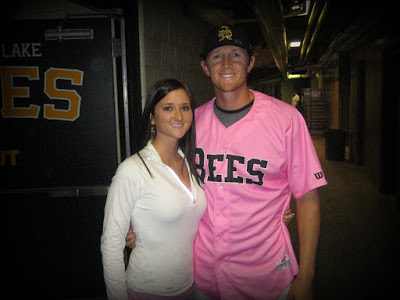 We have had a house full of people since the guys have been home! Our roommates girlfriend, Lindsay, is here visiting from CA, and Tanner's brother, Ben, is visiting from CO. And every morning Brandon Wood has been over for breakfast. Good times! This morning Adam had to be at the field at 8:30 to help run a camp, so, being the lovely trophy wife in training girlfriend that I am, I woke up at 7:30 to make him chocolate chip pancakes! He left and I went back to sleep...until 12:30. Oopsie daisy! I was one tired pup!
Yesterday I finally got to see my neice and nephew! We used the computers webcams, and let me tell you, Hunter was amazed! Taelor was all up in the camera waving and saying ,"hhhaaaayyyy...HHHAAAAAYYYY!!!" I sure do miss those little turds cuties! We are definitely going to make it a regular thing to do!! I took a picture of the ichat...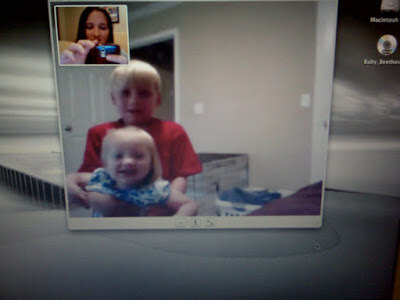 So, remember how I said earlier that Brandon Wood has been coming over every morning for breakfast? Well, apparently he didn't see the sign in the front of our 'hood that says "if you park on the road, you will get towed."..well...you guessed it..his truck got hauled off this morning. After calling around to all of the towing places, we still couldn't find out where his truck was...so this is what they did...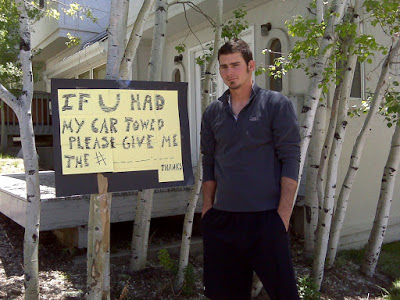 ...and so far we have had two people come knocking on our door giving us the name of a possible towing companies. haha.
Adam is playing left field tonight, and I am going to take some pics today. Sorry this post was a tad bit boring, but sometimes, our life is boring..welcome to the baseball life. :)
Oh, I must warn you..I am in the process of changing the background to the blog again, so be prepared to,possibly, see a new background
every time
you visit...just warning you