Sorry about that little blogging hiatus that I didn't really mean to go on.  This last home stand was the longest one of the season, Adam was home for almost 2 weeks straight..can I get a
hallelu-yer?!?!
  So much has happened and I don't really know where to start....oh wait, yes..yes I do...
Adams parents came into town for a few days (the 9th-13th to be exact).  We had a good time at the games, ate way too much a lot of good food.  Sometime in between eating and baseball games Adams mom gave Tanner, Adam, and I a much needed haircut :)  Good times.  
I hope I can say this without jinxing anything, but Adam has been hitting the ball like it's his job!..well, it is his job, it's just a saying that people use when they are doing something really well...but now I don't really know where this is going.  Ummm..Yes, he has been doing
much
 better at the plate! There have only been 2 games in the past 10 that they've played where he 
didn't
 get a hit.  Most of the time he has been 2 for 4...with a home run somewhere in there! What what?!?!?!  All he needed was a few good hits and a HR to bring back his confidence and now we are back on track!  
During this past home stand was the All Star Break..and that needs a post of it's own...so until then I am going to post a few pictures that we took while Adams parents were here!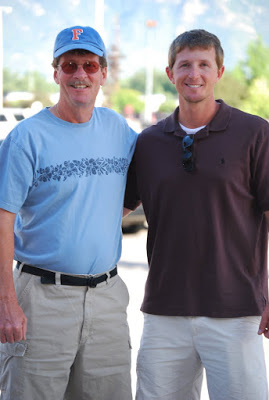 Finally got that picture of Adam and his Dad that I needed!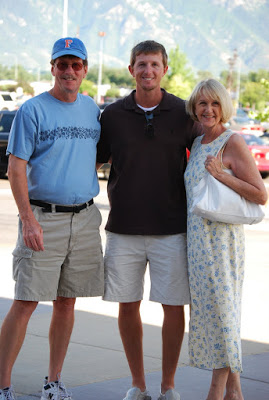 Kim, Adam, and Janine!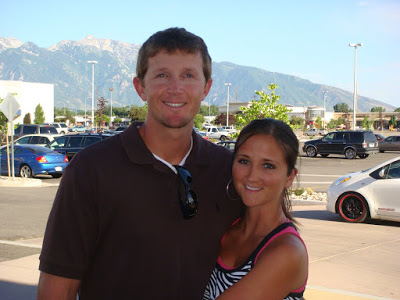 I don't think that's how Adam normally smiles, but I can't be too picky, can I?
This was after his parents took us to The Cheesecake Factory!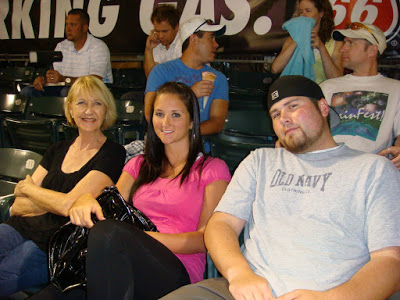 At a baseball game! That's one of Adams friends that he played with at Bama!