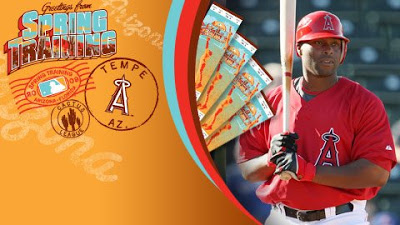 Warming up before a spring training game.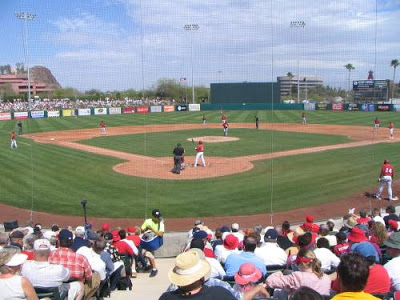 Tempe Diablo Stadium in Arizona
It's really getting close now, only one more week down here in Florida and I'll start my trip out to Arizona for spring training. I haven't decided which day I'll leave, all I know is that it will take 2 days from Tuscaloosa (which is my first stop). Our physicals are on Feb. 16th and our first workout will be the 17th. Really what I'm most excited about is that I get to see Lindsay in a week.
You never really know where you stand in the eyes of the big league team until you get to spring training and see who the new guys are and see who's injured and who didn't push themselves to get better during the offseason. All of things are taken into account when the manager is figuring out who will make his team. The chances of making the big league team right out of spring training aren't in my favor but I'd like to think that if I had a great spring training and played really well then I would set myself up to be one of the first guys called upon if an injury happens or someone isn't playing up to their potential. Besides all that I'm excited to get it all going again, get back into baseball mode. The offseasons are relaxing and I have plenty of time to do things I enjoy but I love the grind of the baseball season, playing games every night and traveling around the country with Lindsay. I found a good picture gallery online of a typical spring training day before a game. I'm not in any of the pictures.
CLICK HERE
.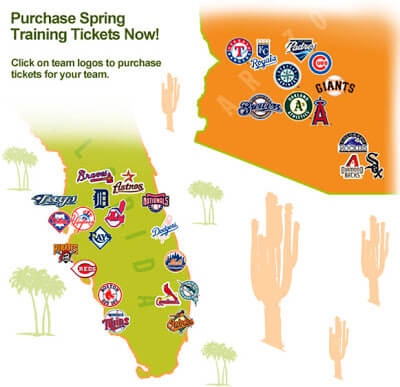 All the spring training sites in Florida and in Arizona.
I'm wrapping up my training at IMG this week, they did a great job designing and setting up my strength program for this offseason. I feel just as strong or stronger than last year at this time. Hopefully that will mean I can just pick up where I left off last season. I had a chance to talk with one of the guys that heads the "Mental Conditioning" program at IMG. Their goal is to work with athletes on strengthening the mental side of their game. I didn't pay for that portion of my offseason workouts but he told me he would make a video reel for me, something I could watch throughout the season to give me a little pick-me-up when I needed it. Its designed to bring confidence back into me when times are tough. You can see it below, just hit the play button in the middle and make sure your speakers are on LOUD!!! (warning...there are three bad words in one of the songs in the video, not by my choice, I think they slipped by the guy who made it.....sorry)