Yesterday the Angels had their first game and they played the White Sox..wait..more like, destroyed the White
Sox
. The final score was 12-3. Adam got in the game around the 6
th
inning (maybe 7
th
?!) and his first at bat he got an RBI Single. For those of you (specifically my family) who need more explanation of this...he hit the ball...got to first base...and in the mean time someone scored..there ya have it :) It was a big relief for Adam. He said that he felt so comfortable up at the plate, very different than last years spring training. Last year was his first year in big league spring training so when he was up to bat the nerves just took over, and got to him so it was good to hear that it was totally different this time around!
After the game ended we went to grab a quick bite to eat at Hooters..I was
reallllllly
craving some fried pickles. Then we hurried home to freshen up a little and then it was off to our Bible study. The church is pretty far away but is definitely worth the drive. It is led by the chaplain for the Arizona Diamondbacks and all of the people that attend are baseball players and their wives/girlfriends. Adam and I met a few people there (Terry Evans, Brandon Wood, and his girlfriend Lindsey) so we all sat together. I hadn't seen Lindsey in a while so we sat around for a few minutes after it was over and talked for a while!
I am now getting ready to go BACK to the grocery store. It's unreal how we go to the grocery store twice a week and there is only two of us..
ugghhhh
. The game is at 1:05 today so I will update later! I only took a few pictures yesterday and they aren't that good because I
didn't
get up and move from behind the net..I was too busy catching up with all the girls. Today I will get some better ones.. Have a good day!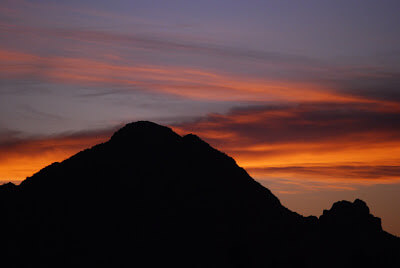 The sun setting behind the mountains