I had NO problems at the airport yesterday! Since I was flying stand by I had already prepared myself for a day of complete chaos..but nope, it was easy peasy. The flight from Atlanta to Phoenix was a long one but they played the movie The Family That Preys, so I watched that and then took myself a little nap! Adam picked me up from the airport then it was off to our apartment! Our apartment is about 10 minutes away from the field but it is really nice! Fully furnished with everything we need..much better than a hotel for sure! After we brought all of my luggage up we went to Oreganos..and I just have one word for that...Pizookie. For those of you who aren't familiar with the Pizookie...its a big warm mushy chocolate chip pizza/cookie with vanilla ice cream.
OhMyGoshItsTheMostAmazingThingEver..
.besides me of course >:)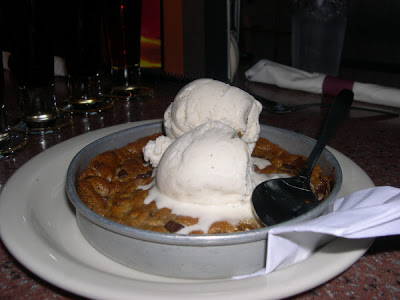 After eating we made a trip to
Wal
-Mart..which was bad because Adam and I were so full the last thing we wanted to do was go buy more food. We ended up getting a lot of stuff and headed back to the house! Lately I have been going to bed
verrrry
early, like 9:00..so thankfully Adam has been too..so we were out by 9:15 and were up bright and early at 6:30! That will all change when the season starts..we usually don't even get home until 11:00 at the earliest sometimes during that time.
Today I dropped Adam off at the field at 7:30. I'm not sure what my plans are for today. Right now I am watching something really funny on the news. They are talking about the incident that happened a few days ago with the
Chimpanzee
that attacked the woman. On the news they are talking about how the chimp relates to Obama..I don't understand what they are talking about but I think that's hilarious.
Ok
, enough with that I guess!
There are 3 more days until the games start here! Adam is excited! He said that they should be having a
scrimmage
pretty soon..maybe even today! I am going to try and go see some of my friends (players wives of girlfriends) in the next few days before the games start. I think we are going to try to go to lunch or something.
I took some pictures of our apartment. Once the games get started there will be more interesting pictures to post!
-Lindsay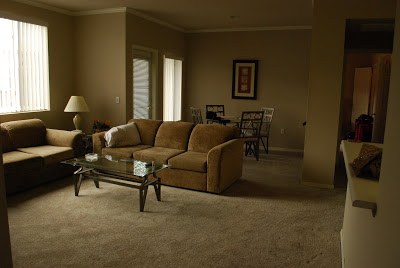 Den/Dining Room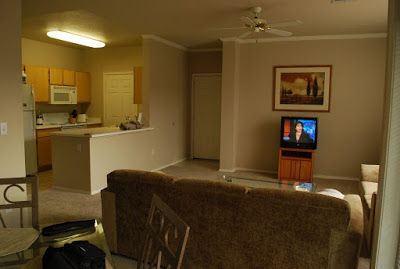 Kitchen and Den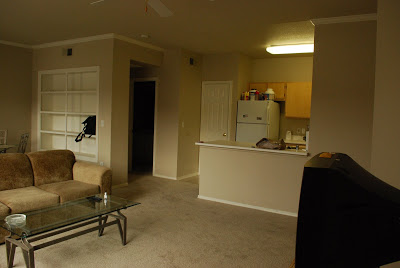 Again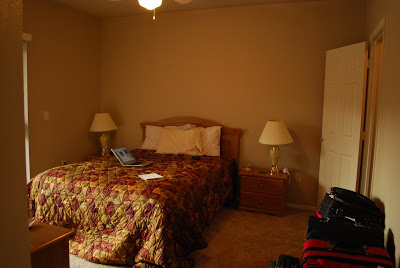 Bedroom with a big walk in closet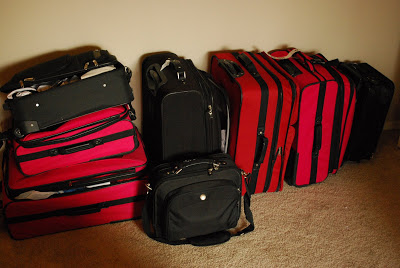 Welcome to our life..living out of suit cases..and many of them