...taking care of Hunter is exhausting! I'm telling you, getting ready for school is not my forte. We are supposed to leave the house at about 7:30 and what time do you think we even woke up? Just guess.... 7:15. Yes, WAKE UP 15 minutes before we are needing to leave. Hunter is not a morning person and is
slooooooooooow
. We didn't even leave the house until 8:00 this morning, and about half way to school I realized that I had forgotten his backpack with his homework and snack in it. But, I dropped him off anyways and went across the street to the new
Publix
and got him a new and improved snack :) Tonight he is going to his first night of karate..he is pumped! He had a mild change of heart during the day but then I convinced him that they were going to teach him how to be Power Rangers and he was all over it, again. I am in Huntsville at my Dads so I am going to call him later to see how it went :)
The past week has been a busy one! On Friday I just hung out with Kristen and her room mates. We went to dinner at
Panera
and then played a few rounds of Catch Phrase, I love that
friggin
' game! Saturday morning I woke up and met my friend Jordan at David's Bridal. She is getting married in October and I am a bridesmaid. We looked at dresses for the both of us and just let me tell you, I don't know how you are supposed to decided on any kind of dress when there are 6
cajillion
choices! We found a bridesmaid dress but no wedding dress! After we were done there I met up with my Dad and Colby and we went and shot some guns. The target=Dads old computers. I know, it sounds ridiculous (more like, scary!!!), but I did shoot a gun! I even hit the targets! It was the last day of hunting season, so I don't think many people around us were too happy about us being there! So, we left and went to
Robby's
house to hang out with him and
Taelor
! Sunday my Dad, my brothers girlfriend Lindsey, and I went to church on campus and it was a lot of fun! I have never been to that church before but I must say, I think it's a keeper! It is pretty much the same kind of setting as all the other churches that Adam and I go to in FL and UT!
That pretty much sums up my week, I am going to be at my Dads until Thursday afternoon, then I am headed back to T-Town!
Adam is still just working out hard, hitting, hating life without me (!), and eating a bunch of good food without me. He can't decide when he is coming but I sure do wish he would hurry up and decided. He keeps getting my hopes up by telling me that he is coming on Sunday, then at the end of the conversation he says he's going to come on Wednesday.
Grrrrr
. My guess is that he is really just trying to surprise me early but doesn't want me to think that he is coming on Sunday..but he really is. He tried to surprise me a few years ago by showing up a day early. When he called me he was standing outside my door, so I went to the front door..saw his face...and then slammed the door in his face. After coming to my senses I opened it up and let him back in. I was surprised....but...he came the night of the season premier of Grey's Anatomy
annnnnddd
well, I was a little torn. I really wanted to watch Grey's...so I did :) But anyways, I think I just started to ramble there, sorry. So, the whole point of that story is (this is for Adam)..Adam, if you are going to surprise me on Sunday please either make it before or after Desperate Housewives comes on ;) Totally kidding, kind of.
Isn't everyone just SO proud of Adam FINALLY taking the time to write a blog?? I figured it was about time for some pure baseball talk. I am going to try to make that happen more often! Thankfully, spring training is just around the corner. Then, you will probably be like 'man, I wonder what Lindsay has been doing lately, I'm so tired of hearing about baseball.'
OK
that probably won't happen.
Alrighty
, my Dad just got home so we are going out to dinner....
Hasta
Luego
!
-Lindsay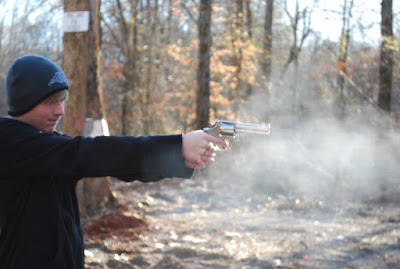 Colby shooting the Revolver .357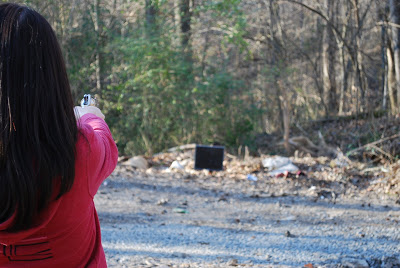 Contain yourselves...this is me.
No one was injured.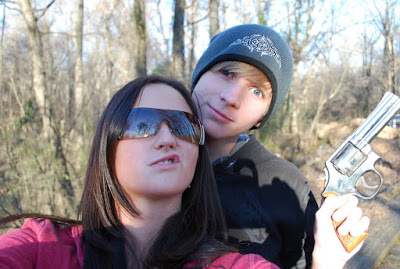 Gun slingers...