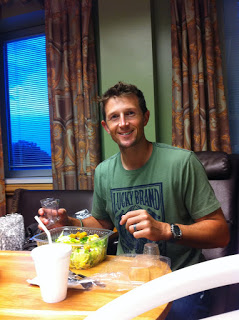 How about that for a title, huh?
Last night Adam went and got us Olive Garden for dinner. They had just put the Cervidil in so I had to lie flat for two hours, which made eating loads of fun because Adam had to feed me while I was flat on my back! Holy Indigestion! As soon as the two hours was up I sat up and could literally feel my food move from my chest to my stomach. Never again!
Adam stayed for a while and left around 10:00 pm. The nurse came in and gave me an Ambien to help me sleep. I wish I could tell you what happened between that time and 4:00 AM, but I'm not exactly sure. I do know that the night involved me getting up several times to pee, and me writing a somewhat inappropriate text message to one of my friends at work!
This morning they came in and gave me a "soap suds enema".....
I'm gonna let you guess how much fun that was.
Needless to say, I then showered, put my contacts in, brushed my teeth, and now I'm back in bed feeling squeaky clean....literally inside and out.
Just waiting to start the pitocin now and then my doctor will come break my water! Score!
Update ya later!