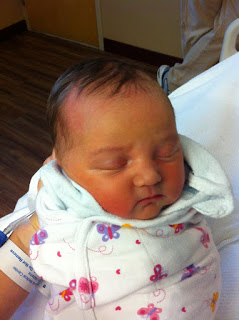 I think I officially have the worlds laziest baby! She has slept through almost the first entire day and a half of her life. I know newborns sleep a lot so I'm not going to complain.
Things are going great! She sleeps a lot, we are working on the breast feeding, and poops like a champ.
Nursing was going great but then this morning she wouldn't cooperate. After several attempts to feed the little nugget Adam and I decided it would be best to supplement with a bottle, just because I knew she was starving! She dominated the bottle (literally the thing was gone in about 3 minutes) and has been in a food coma ever since. The lactation consultant is on her way now to help us figure out the BF problems.
We were going to be able to leave this afternoon but Presley is borderline jaundice so they want to keep her overnight. Nothing to worry about though!
Adam is out at a baseball camp for a few hours and I'm sure he's dying to be back at the hospital. "Obsessed" doesn't even begin to describe how he feels about her. It's the sweetest thing and I have a feeling she's going to be pretttttttty spoiled.
Our wonderful friend and amazing photographer, Jamie Cormier, was in the delivery room with us and took the most special pictures we have ever had. I can't wait to get home and see all of them! I will post a few of them on here once I figure out how to post more than one picture at a time on my phone. If you have Facebook go to Jamie Cormier Photography and "like" her page and you can see some pics!