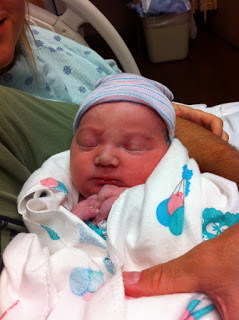 After what could be the worst pain I've ever experienced, two hours of pushing, and about 3 attempts to up my epideral, the little nugget is here!
Presley weighs 7.3 pounds and is 19 1/2 inches long!
So far she looks a lot like me but I know that can change and in a few days she could look like a totally different baby.
I'm not gonna lie, I didn't enjoy labor one bit and cussed like a sailor which is totally not me! I also fell asleep in the middle of pushing and talked in my sleep, I was drraming that my friend was trying to sell me a nightstand. Who knows! Oh well, it's over now and I can enjoy our new little baby!
Thank you for all of the prayers and well wishes!

I'll update as soon as I can with more details, I'm going to go devour this Taco Casa!