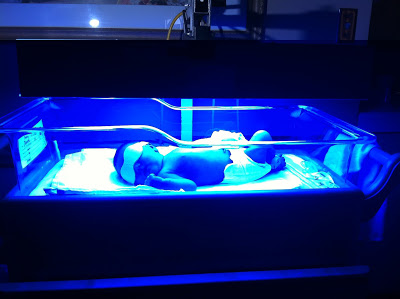 Well, we still aren't home! This morning the pediatrician said that PDizzles jaundice had gotten worse and they were going to keep her under the Bili-light all day to help get rid of it. I was super upset because I just want to get home!
It's been a very long day, Adam had to go coach a baseball camp, so it was me and my Mom hanging out all day (and Anna Lisa who works in the hospital, she hung out with us too!). I haven't left the room all day and I just want to snuggle my wittle bitty baby!
They tested her levels again at 6:00 and any second now we should get the results. I have the phone sitting right beside me as we speak. Adam and I have to be out of the room by midnight because insurance won't cover any more nights. We are able to pay for a room in a different part of the hospital so we are going to do that. No way are we leaving our baby and going home, besides, I have to feed her!
I can't say enough how thankful I am to have my Mom here to help. She is here as soon as I need her, stopping and getting me the things I need, and does everything she can to help. She has taken the week off of work and is going to stay with us at the house and I am soooo grateful for that!
So far motherhood is everything I expected: motha-bleepin-exhausting!
I'm on a really weird schedule where I pretty much never sleep. I have to pump every two hours to help bring my milk in, then I have to feed la niña every three hours, and that takes an hour. So by the time I get all of that done I only have a small window of time to sleep before I start all over again, and that time is filled with people coming in and out of the room.
I did have my first "mommy moment" last night though! The nurse was supposed to bring Presley back to me
at 2:00 AM
so I could feed her. Around
1:00 AM
they come wheelin' her in my room saying they could not calm her down and she wasn't acting hungry, just fussy. As soon as I picked her up and she saw me she stopped crying and fell right asleep!
I died. Oh my gosh I have a child.
Pray we can go home tomorrow! I'll update when I can!
Sent from my iPhone