Since the guys have been gone all of us lonely and miserable girls have been keeping each other company. Last night we had a pot luck- which I have never even heard of, until now. It was a lot of fun, although I feel like I ate all night long..wait..nevermind, I did. Everyone brought their own dish of food.
Ashley
brought Aussie meat pies (her husband is from Australia, so she has all kinds of good stuff to make that we've never even heard of!), Myla made cute little chicken bites, Jenny brought over salad and carrots, Tanner made rice crispy treats, and I made pigs in a blanket and some amazing spinach dip! Yes folk's you just read it for yourself, I cooked. And let me just tell you
this
, the spinach dip...completely gone by the end of the night. Success!! It was pretty funny, we had all of the food on the table, we were all sitting around eating and chatting, then we realized that every single one of us had our lap tops in front of us watching the game. Maybe you had to be there?!?!
Moving on.
Adam was the DH last night, he went 1 for 5 with a single...I don't think he was really happy about that. Soooo, ahem, not much more to say on
that
.
Yesterday I got a new phone! (Thanks Daddy-o ) My iPhone officially died, forever. I got the
Samsung Impression
and I love it! It's similar to the iPhone, but it has a keyboard, I hated not having any buttons to push! Cha Ching!!!
Adam comes home in 3 days and I can't WAIT!! I must admit, I was ready for him to go on a road trip, but now I want him back! (
awww, ain't that sweet?)
It's no surprise, but he sounds pretty miserable without me around :) Oh, yes, I just want to point out one
tiny
thing. Since Adam has been gone I have kept the room and bathroom
spotless
(and that is said with my very best British accent..just because). I wonder who the messy one is now? Huh Huh Huh??
Adams parents will be here on Saturday! I am not sure yet what all we are going to do (besides go to baseball games). Last year when they were here we went to Park City and did some fun things! It will be fun though, whatever we do!
After they leave it's Vegas time! Oh yeah! Ok, so I can promise you that
every
time we have ever been to Vegas I have begged and begged to go to a Cirque Du Soleil show, and we have yet to go to one. This year is the perfect chance to go because they have an off day before they go, so we could drive up a day early and go to a show. I thought we would for sure be going, but I think tickets are a little too expensive, unless we want the seats that are titled "Limited View"..umm no thank you :( I am like a sad little puppy right now **sniff**
This is totally off the subject, but my brothers wonderful girlfriend (Lindsey) made a blog about them and the kids a while back..and how rude of me to not mention is so you can see it? Geeeze! She is usually pretty good about updating it..so check it out
here
!
This was a pretty random post...but, I'm a pretty random person...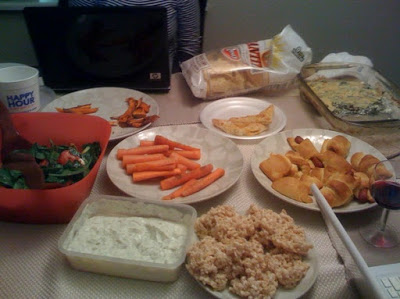 I stole this picture from one of the girls...but its the food from last night!! Nom Nom Nom!!