I can honestly say that it
does
feel good to be back in Salt Lake City. I feel like it's our 2nd home, considering we spend half the year here (for the past few years). It ended up that we are living in the same house that we lived in last year, so it
definitely
feels like home! We live with the same couple as we did last year, so when we all walked in last night we were all like," Wow, it feels like we never even left!" We are also living with Chris Petit, this is his first year in triple-a. He's a really good guy (Sorry Anna Lisa, he's taken...for now.) We left Phoenix around 1:30 or 2:00 yesterday afternoon and made the 11 hour drive...we were all exhausted and just headed straight to bed. This year Adam and I are living in the basement..aka, The Dungeon. Its got its own separate den, and good sized bedroom, and a huge updated bathroom..and the best thing about it..no windows. (I know that as soon as my Mom reads this she's going to call me and say,"Lindsay Danielle, how in the
heck
are you going to get out of there if there is a fire????"...Well Mom, I won't...I've just got to hope and pray to sweet baby Jesus that the fire extinguisher that's in our room saves me. Now that we have that cleared up..let me tell you about our fun day we had today on the slopes!!
Last night on the long ride up north, Adam had the brilliant idea that we should go skiing today..Psshhh...I was all over that idea..heck yes...put me on some ski's and send me down that mountain!! Adam had never been before, so he was extra pumped. Usually the ski season is ending when we get here, but the past few winters have been longer so they have kept all of the skiing places open! So, I text Brooke, my roommate while I was in school here, and ask her if I can borrow her skiing gear and I told her I would come get it from her work this morning. I woke up bright and early..meaning, 9:30..and went to McDonald's to pick up breakfast for the guys, then headed downtown to pick up the clothes! I met Adam and Chris down at the ski rental place where we got all of our gear, then we headed home to change and drove up the mountain!
We went to Solitude, which is right by where we live, and it's also where my Dad and I went skiing 2 years ago when he came to visit me when I was finishing up school. It was much different this time though because the snow was actually real this time :) Oh, yeah, I forgot to mention that Adam was not skiing, he was snowboarding, which is much much harder. He's such a brave little chap! I was stickin' to the ski's...the "pizza slice" and "french fries" are all ya gotta know for that! I told Adam all morning that he was probably going to fall a lot and spend most of the day on his butt..I mean, that's what I have always heard! What the heck was I thinking though?? This is Adam Pavkovich for heavens sake..he's like, the pro of all pros...Mr. King Confidence of all confidant people..he is the epitome of "anything you can do, I can definitely do better..even if I have never done it before..". So, with all of that being said, it shouldn't come as a surprise when I say that on his 4th run down the slopes he goes on one of the hardest ones, the black diamond trail. I did not go down it, I patiently waited at the bottom :)
I attempted a harder trail...It didn't work out like I had expected it to. It started out nicely, but then it got ugly. Adam and Chris were already waaaaaaay in front of me, then me and my ski's got in a tad bit of a debacle, to say the least. Here is how it went down-I slid down the trail, one of my skis fell off, then somehow I managed to go way off the trail next to a tree. I finally wiggled my way over near the trail and sat for about 20 minutes until Adam and Chris came and found me :) I was sweating like a pig. Needless to say, I went back to the easy slope for the rest of the day.
When we were all done, we were pooped. I have a feeling that we are going to be pretty sore tomorrow....what?? Come again?? Did someone say massage?? Great idea! I'll run that by Adam...
Oh, and if you have noticed, I have learned how to post from my phone..hence all of the random pictures posted under this one..check back every once in a while to see random pictures of what we are doing because I won't send out the email for those, just the long posts like this one! Also if you are on our email like that goes out every time we post, and you don't want to be..just email me (
Ldevore7@gmail.com
) and I will take you off...it won't hurt our feelings too much :) No really, I can see where you wouldn't wait 5 million emails in your inbox that say "Blog Update!!"..and on the other hand..if you aren't on our email list and want to be, email me and I will add you! Capeesh?
Three more days until games start! I'll post soon! Have a good week!
-Lindsay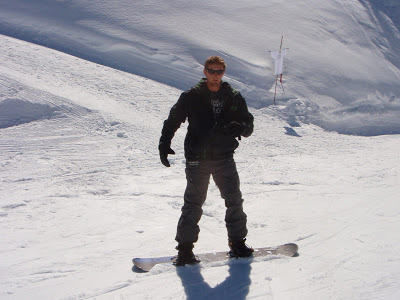 Adam was quoted saying."That was, by far, the coolest thing I have ever done." There you have it boys and girls..the coolest thing
ever.

Master of the Easy trail...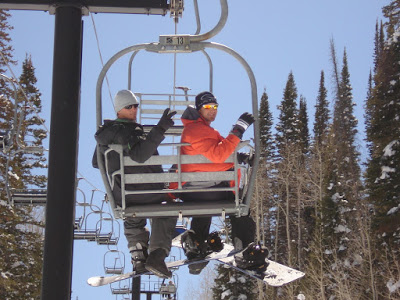 Adam and Chris going up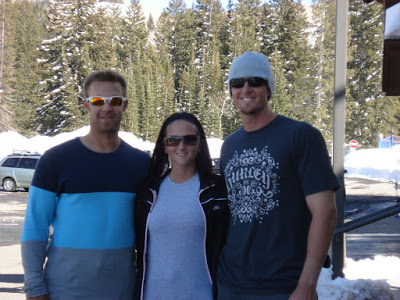 At the end of the day.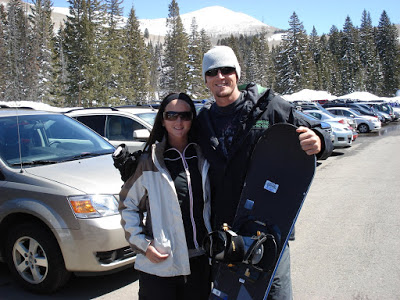 This was the beginning of the day